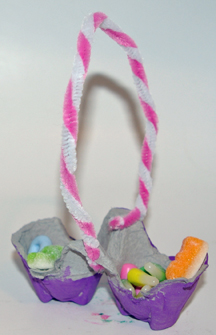 Here's another take on the egg carton Easter basket, this time using 2 sections from the carton. Fill with 2 kinds of candy or treats!
What You Need: egg cartons; paint and other decorations; 2 pipe cleaners; scissors.
How to Make It: Adult cuts out 2 sections of egg carton, keeping them together. Let kids paint and otherwise decorate the baskets. Once dry, adult pokes holes in either side of basket and attach 2 pipe cleaners, twisted together for handle.