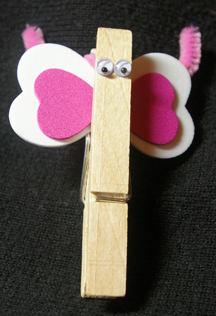 Perfect for Valentine's Day or anytime, this love bug or butterfly heart clip can be used as a chip clip, paper holder and so on. Or you can add a magnet to the back and put it on your fridge!
What You Need: Clothespin; 2 small googly eyes; 4 foam hearts in 2 sizes; half of a pink pipe cleaner; glue (special foam-friendly glue works best on the foam).
How to Make It: Wrap pink pipe cleaner around flat end of clothespin and glue to secure. Glue googly eyes to flat end and let dry. Glue small foam hearts inside large ones and glue both sets point-to-point inside the clothespin (you may need to overlap them a bit).