Save up those TP rolls and let kids use random craft supplies and their imagination to make bunny and chick decorations for Easter. For a fun variation, paper over the bottom and the roll can hold candy or other treats.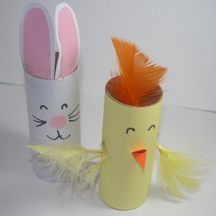 What You Need: Toilet paper rolls, feathers, construction paper, felt, markers, pom poms, glue, scissors, tape, and anything else fun that you have on hand. Kids could also paint their rolls rather than cover them in construction paper.
How to Make It: Pre-cut strips of construction paper to the length of toilet paper rolls. Secure one end of paper to cardboard, roll around and secure the other end with tape. Glue or tape on feathers, felt or paper ears, pom pom noses, construction paper beaks, and other cute features. Use googly eyes or draw on eyes and whiskers.