Here's an easy craft that uses ready-made foam pieces and a small terra cotta pot. This is a great way to fill a short stretch of crafting time without needing to get out the glue and other messy supplies. (Although at FreePreschoolCrafts.com, we're big fans of getting messy!)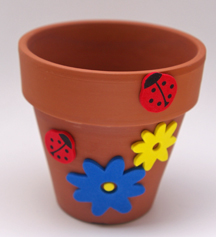 What You Need: Terra cotta flower pot; adhesive-backed foam animals, bugs, flowers, etc.
How to Make It: Give each child a flower pot and offer a nice variety of foam pieces to choose from in decorating his or her special flower pot. These make a great gift.