Preschoolers can use their imaginations decorating this castle! You can use sequins, glitter and whatever else you have on hand. You could even paint a paper plate blue for the moat around the castle.
What You Need: toilet paper or paper towel rolls, tempera paint, paintbrush, glitter glue, scissors, toothpick, construction paper.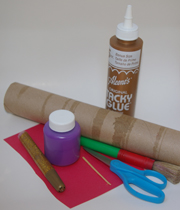 How You Make It: Paint toilet paper tubes or cut-up paper towel rolls. Make 8 small cuts at one end of two of the rolls and fold four tabs inward to form turret. Decorate however you'd like and glue edges together to form castle. Cut construction paper into rectangle, fold over toothpick, glue and then trim to triangle flag shape. Glue or tape to inside of castle.