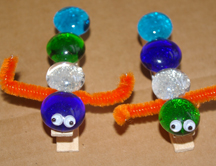 These cute caterpillars make great gifts, and can be used as chip clips, paperweights and a variety of other uses. Kids love picking out the colors for these little guys.
What You Need: Clothespin; 4 decorative rock gems; pipe cleaner; googly eyes; scissors; glue (If kid-safe glue doesn't hold as well as you'd like, adult may want to try a hot glue gun.)
How to Make It: Select decorative rocks to attach to clothespin. Glue 2 googly eyes to the one in front. Cut (adult job) small section of pipe cleaner. Slip pipe cleaner between first and second rock and secure with drop of glue. Let dry.