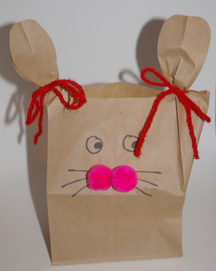 Here's a quick, fun craft that doubles as a treat holder!
What You Need: 1 paper lunch bag; scissors; yarn; 2 pom poms or cotton balls; black marker; pencil.
How to Make It: Adult uses pencil to draw ear cut-out shape on front and back sides of lunch bag and cut along lines. Use yarn to tie ears together. Child decorates bag with marker and pom poms.