What You Need: 5 Popsicle sticks, blue craft foam, tan cardstock or construction paper, scissors, foam fish and other sea creatures, googly eyes and glue.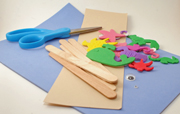 How You Make It: Cut wave-like notches along top edge of blue craft foam. Arrange 5 Popsicle (craft) sticks as shown so that they overlap one another in a fishbowl shape and glue the sticks together at their ends. (Make sure the Popsicle stick "frame" is smaller than the foam piece.) Trim blue foam piece so it's slightly smaller than the craft stick frame. Cut tan cardstock about 1 inch high in a curvy shape for "sand" and glue to bottom of blue foam. Then glue the frame over the foam. Fill with foam fish, starfish, sea horses, whales and so on. Add googly eyes and you're done!
Recommended storybook: One Fish Two Fish Red Fish Blue Fish
by Dr. Seuss.