These spiders can be made as bracelets or rings. Preschoolers love wiggling them around. It's even more fun because it's made by tracing the child's own hand!
What You Need: black construction paper; 2 googly eyes; office brad; white crayon; scrap of white paper; glue; scissors; stapler.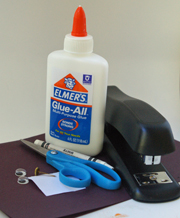 How You Make It: Fold construction paper in half. Have child place hand at fold, about halfway down the palm. Using white crayon, trace fingers (but not the thumb). Unfold and cut out. Use pencil or crayon to roll "legs" so they curl under a bit. Cut strip of black construction paper 1 inch wide and about 1″ longer than the child's wrist. Staple ends together. Use brad to attach wrist loop to spider's body. Glue on eyes and little triangles cut from white paper for fangs.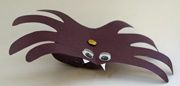 Tags: Halloween, handprint crafts, spider crafts