A clay handprint impression from a preschooler is always a welcome gift for Father's Day, Mother's Day or any other occasion. This recipe is enough to make about three handprints.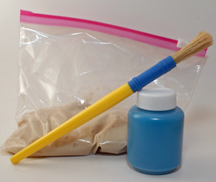 What You Need: 3/4 cup salt, 2 cups flour, 3/4 cup water, 1/2 teaspoon alum powder (alum is a preservative; only use it if you want the dough to last a long time AND you know your kids won't eat the dough), mixing supplies, paint, paintbrush, pointy object (paper clip, toothpick, etc.) to write name and date.


How You Make It: Mix dry ingredients in bowl, add water gradually and knead dough. Form into ball, flatten to about 1/2″ to 3/4″ thick and even out edges using your hands or a plastic knife. Child presses hand, with fingers apart, into clay. Adult can etch name and date with pointy object, or paint it on later. Let dry (at least overnight) and paint.
"We tried it" tip: We tried baking this clay, but after an hour at 300 degrees it was still soft on the bottom. It hardened up after a few days. Also, if the dough crumbles, add a little more water.
Additional resource: For more ideas for making things with baby or child footprints and handprints, including poems and quotes, visit www.babyfootprints.info.