Here's a twist on a classic craft. A lot of these melted-crayon stars look great strung up in a classroom around 4th of July. Remember to be safe around iron and scissors!
What You Need: iron (not pictured), wax paper, star template (free printable download below), red crayon, white crayon, blue crayon, scissors, crayon sharpener (or adult can "shave" crayons with scissors edge), glue, glitter, hole punch, red yarn, newspaper.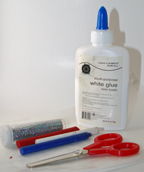 How You Make It: Using star template, trace star shapes onto two pieces of wax paper and cut out. Use sharpener (preschooler) or scissors (adult) to make crayon shavings. Sprinkle crayon shavings onto one star and cover with second star. Place between two layers of newspaper. Carefully, adult irons until crayons melt. Let cool. Outline star with glue and apply glitter. Shake off excess glitter. Punch hole and tie with red string.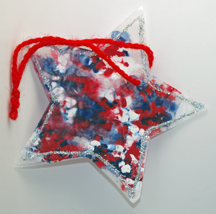 star template